For the first time since 2019 (due to the pandemic), The Crumley House staged its annual summertime gala, The Polynesian Beach Party. Ballad Health and Dermatology Associates sponsored the event.
Bristol Motor Speedway's South Building played host to the hundreds of guests who donned their beach apparel for a fun evening of food, music, fellowship and of course, helping raise funds for The Crumley House Brain Injury Rehabilitation Center.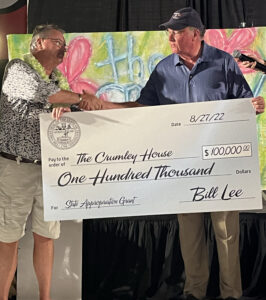 The evening was highlighted by Senator Rusty Crowe who presented a check for $100,000 to The Crumley House on behalf of the State of Tennessee. Crowe said, "I, along with Tennessee State Representatives Tim Hicks and Rebecca Alexander worked diligently to secure these funds for The Crumley House and the needed services it provides for those who are living with permanent brain injuries."
WJHL News Channel 11 and ABC Tri-Cities morning co-anchor Kelly Grosfield served as the event's emcee and assisted auctioneer Eddie Ramsey of Ron Ramsey and Associates with the party's live auction. The auction included a trip to Dominican Republic, dazzling jewelry and a guitar autographed by Country Music superstar Kenny Chesney.
"So many individuals had a hand in making this event successful and we treasure all who helped stage the party, our guests and of course our generous donors and sponsors who gave to support our efforts at The Crumley House," said Dr. Caroline Abercrombie, Party Committee Chair and Crumley House Board Member.
The Crumley House looks forward to continuing the event in the future. "It was so good to host the event live once again," stated Guynn Edwards, Crumley House Executive Director. "We got to see many faces we haven't seen in quite a while in a fun environment. We're just so appreciative for all who worked on the event, the outstanding businesses like Ballad Health and Dermatology Associates who back the party and all who attended or donated.
The Crumley House will continue is Fall fundraising efforts throughout the month of September with Donation Days which features an online auction with a wide variety of items donated by regional businesses and individuals. There will be more news regarding Donation Days coming soon.