From desperation to hope…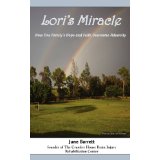 On a sunny September day in 1981, fourteen-year-old Lori Beth Ford was involved in a tragic car accident that left her with a TBI – traumatic brain injury. The doctors and medical staff tried to convince Lori's family that she would not live, or if she did live, she would be incapacitated for the rest of her life. However, with hope, love and a refusal to believe the worst, Lori's family and friends showed nothing but support and patience through her ongoing recovery. As a popular teenager with lots of friends and extracurricular activities, it was a hard transition for both Lori Beth and her family to accept the fact that she would never be the same. Told through her mother's voice, Lori's Miracle is the inspiring story of a girl whose childhood dreams were shattered, but her success was redefined in a way that no one could have ever imagined.
For pricing and ordering information, please call The Crumley House at (423) 257-3644.