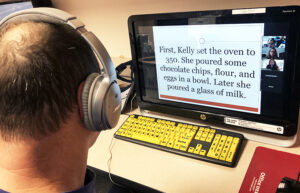 After a traumatic brain injury (TBI) it is common for individuals to experience problems with attention, concentration, speech and language, learning and memory, reasoning, planning and problem-solving. These are all part of the brain's cognitive processes.
By definition, cognitive processes include any of the mental functions assumed to be involved in the acquisition, storage, interpretation, manipulation, transformation and use of knowledge. Clearly, a person with TBI may be unable to focus, pay attention, or attend to more than one thing at a time.
A TBI can result in minor disruption of a single or multiple cognitive processes. Similarly, a major disruption or a combination of two or more, each to a different degree can result from a TBI.
Our Cognitive Classes are constructed to aid our members through classroom instruction, hands-on activities, problem-solving and working with appropriate staff, or therapists.
In addition to cognitive classes, computer learning/training also plays an important role in the rehabilitative process. Specific software programs are utilized to target and focus in on certain cognitive processes. Computer training also is instrumental in cognitive rehabilitation by doing things such as working puzzles and playing memory/recall games. Computers also provide entertainment alternatives for members.
As part of our program, classes meet four times each week and last 40 minutes.
Goals are established for each member of the class and adjusted accordingly.