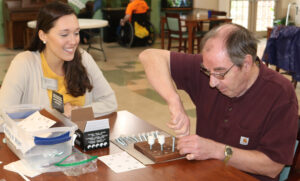 The Crumley House Brain Injury Rehabilitation Center is fortunate to partner with regional colleges, universities and high schools to create mutually beneficial relationships that aid our members and provide an experiential environment for students.
East Tennessee State University partners with The Crumley House in Speech and Language Therapy and well as Occupational Therapy during each of their semesters. Likewise, Milligan University and Walters State Community College actively participate in Occupational Therapy with our members.
The partnerships bring additional learning/training opportunities to our members while allowing students to complete requirements needed for their respective programs of study.