The Crumley House opened its doors in the summer of 1992. From afar, 1992 may appear as the beginning, however the dream that became a reality was actually born much earlier.
On a late summer September afternoon in 1981, the lives of then 14-year-old Lori Beth Ford and her family were dramatically and forever altered. Following a tragic automobile accident, the vibrant, beautiful and talented teenager became a traumatic brain injury survivor. Following several weeks in a coma, Lori Beth awoke with a frontal lobe injury to her brain. She was unable to walk, speak, or eat. The accident ended years of ballet, horseback riding, cheerleading, academics and numerous other outstanding endeavors. However, it did not end her life.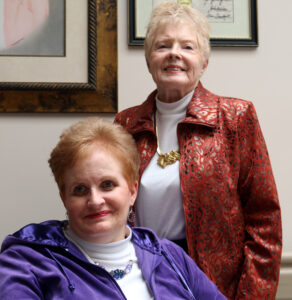 Yes, the goals changed but the drive and support of her family did not. Mrs. June Barrett, Lori Beth's mother and founder of The Crumley House, knew very little on the subject of traumatic brain injury. However, she did not hesitate in moving forward. Instead, she immersed herself in Lori's hands-on rehabilitation and recovery. More importantly, she took action.
It was during Lori Beth's recovery process, that Mrs. Barrett discovered a great need as well as a wonderful opportunity to help others. There simply were no services, nor facilities to support the transition between acute rehabilitation, community re-entry and development of independent living skills. Mrs. Barrett truly recognized the existence of a crucial and missing link in the rehabilitation cycle — and so the idea for The Crumley House was born.
In 1992, June Barrett opened the doors to The Crumley House as an act of love, and it continues be so today, passionately serving traumatic brain injury survivors and their families.
Via grant money and private fundraising, Mrs. Barrett turned her own family's pain into a vital resource for the entire region and beyond. Over the years The Crumley House has evolved into a nationally-recognized leader in all facets of brain injury rehabilitation. For questions or more information about The Crumley House please call 423.257.3644 or inquire by email.