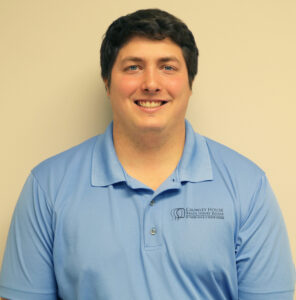 Clay Morelock serves as Program Director for The Crumley House. The Program Director is responsible for designing, implementing, supervising and evaluating the individual activities for our members; as well as managing staff and effectively communicating with families of our Crumley House members.
With a B.A. in Exercise Science, Morelock has been part of The Crumley House since his graduation from East Tennessee State University in 2018. He initially served as The Crumley House Physical Trainer.
"Our daily activities are extremely important for our residents and our day program members. It is crucial that we provide them with the necessary tools and experiences to continue their respective and individual rehabilitation," states Morelock.
"For me, this position is incredibly rewarding as I know I have the opportunity to make a difference in an individual's life every day that I walk through the door."