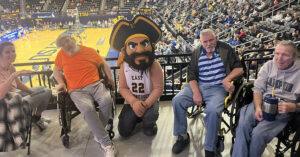 Following a brain injury, having the opportunity to get back out into society plays a very important role in re-adjusting to life's normal activities. At The Crumley House, Fridays are reserved as "outing" days for residents and Day Program members. The outings include a wide variety of activities which include, but are not limited to:
Dining
Sporting events
Shopping
Museums, libraries, parks
Zoos, aquariums
Movies, bowling
In addition to the enjoyment of these activities, members benefit greatly by being exposed to communication, mobility, money management and self-awareness skills.
All outings are attended by staff and certified nurse. The Crumley House relies solely on donations to assist in outing-related expense. If you would like to help, we encourage you donate online now.