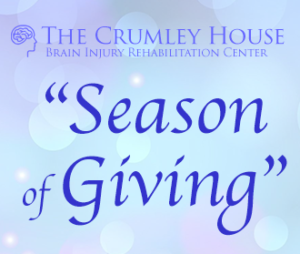 The Crumley House is set to close out 2023 with its 4th Annual Season of Giving Fundraising Campaign. Beginning on Thursday, Nov. 2, and running through Friday, December 29, the nearly two-month campaign is highlighted with a wide variety of ways for individuals, businesses, organizations, and those with philanthropic interests to assist one of the nation's leaders in assisting survivors of traumatic brain injury.
The Season of Giving Online Auction serves as the main driver of the campaign. The auction features various items from many Tri-Cities regional businesses and donors. Items include jewelry, studio photography sittings, outdoor activities, cosmetic packages and much more.
The auction portion of the campaign concludes on December 15.
Complimenting the auction, November 28 marks the National Day of Giving, also known as "Giving Tuesday" and provides yet another opportunity to make a difference at The Crumley House.
"We rely heavily on the generosity of our region to assist us in our efforts here at The Crumley House," said Executive Director Guynn Edwards. "The day-to-day cost of operating our residential and adult day programs is significant, and this campaign is vital to ensuring we are able to provide for the needs of our brain injury survivors."
While the auction provides a great shopping option in advance of the holidays, the organization is also focusing heavily on obtaining sponsorships for its members during the campaign.
"Our members, both residential and in the day program, enjoy doing the same activities we all do," said Program Director Clay Morelock. "It may be going to the movies, bowling, an ETSU basketball game or simply dining out. Those activities have expenses attached to them such as transportation and staffing.
Member Sponsorship information, levels and availability are included on the Season of Giving Online Auction page. In addition to sponsoring members, individuals also may make donations to our Member Christmas Fund, and they can make an in memoriam/honor of donation.
Edwards adds, "There are opportunities offered for anyone and everyone to participate on some level and, of course, every little bit helps. Whether it's making a standard donation of any amount, or springing for one of our great auction items, we want all to know their money stays right here in our region and assists so many who have experienced a traumatic brain injury. We want everyone to know that we are truly blessed here, and we genuinely appreciate all who go the extra mile to help us throughout the year."