Mrs. June Barrett, founder of The Crumley House Brain Injury Rehabilitation Center, passed away peacefully at her residence early Tuesday morning, August 20, 2022.
"It is with a heavy heart that we share the news of Mr. Barrett's passing. She was our leader, our mentor, and the inspiration for all we do here at The Crumley House," said Guynn Edwards, Crumley House Executive Director.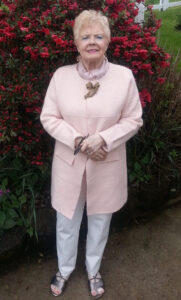 In 1981, Mrs. Barrett's daughter, Lori Beth Ford suffered a traumatic brain injury in a tragic car accident. This would alter Mrs. Barrett's and the lives of her family forever. It was during Lori Beth's recovery that
Mrs. Barrett discovered a great need as well as a wonderful opportunity to help others.
There simply were no services, nor facilities to support the transition between acute rehabilitation, community re-entry and development of independent living skills. Mrs. Barrett truly recognized the existence of a crucial and missing link in the rehabilitation cycle — and so the idea for The Crumley House was born.
In 1992, June Barrett opened the doors to The Crumley House as an act of love, and it continues be so today, passionately serving traumatic brain injury survivors and their families.
Mrs. Barrett turned her own family's pain into a vital resource for the entire region and beyond. Under her leadership and guidance, The Crumley House has evolved into a nationally recognized leader in all facets of brain injury rehabilitation.
Edwards added, "While she will be sorely missed, we will continue the mission and vision of The Crumley House with the same passion and loving kindness that Mrs. Barrett exhibited as the foundation for all we do to serve those who have experienced and survived a traumatic brain injury."
Services for Mrs. Barrett will take place at 11:00 AM on Friday, Sept 2, 2022, at Munsey Memorial United Methodist Church, 201 S. Roan St. in Johnson City, Tenn. A reception will follow services, also at the church. Graveside services will follow at 3:00 PM at Mountain Home National Cemetery, 215 Heroes Drive, also in Johnson City.