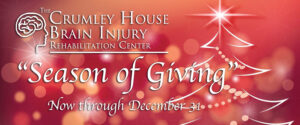 It's that time of year again as the holidays are upon us. Similar to the 2020 calendar year, we realize 2021 has been a particularly strenuous year on so many. However, we can all gain joy through giving.
Our 'Season of Giving' campaign is under way and runs through Friday, December 31.
We're hoping you remember our brain-injured residents and day program participants as we strive to continue rehabilitation efforts for all our members.
Once again the COVID-19 pandemic placed extraordinary strains on our 2021 fundraising efforts as it did for numerous regional non-profits. Fueled by the organization's website (crumleyhouse.com), social media platforms (Facebook, LinkedIn, Instagram), community outreach and local media, The Crumley House invites individuals and regional businesses to participate in assisting one of our nation's leading non-profit brain injury rehabilitation centers.
"There are so many ways to aide our efforts here at The Crumley House," says Executive Director Guynn Edwards. "Obviously, cash donations are most certainly welcome. But how about assisting the purchase of Christmas Gifts for our members? Perhaps it's sponsoring a Friday meal/outing. Maybe it's sponsoring a member by providing his/her personal hygiene care products for a month or two," Edwards adds.


The simplest method of assisting The Crumley House this holiday season is to visit crumleyhouse.com and click on the Donate Now button at the top of the home page or just click here. Please remember to select The Crumley House as your charity of choice with Amazon at amazon.smile.com when making purchases online. Donations also may be mailed directly to The Crumley House, 300 Urbana Rd., Limestone, TN 37681.
Edwards states, "We are blessed to be part of such a giving region and we genuinely appreciate the generosity of everyone; and on behalf of all of us here at The Crumley House, we wish you a very Merry Christmas, and by all means, a blessed and Happy 2022!
For more information regarding The Crumley House 'Season of Giving' please contact Ben Trout, Marketing and Fundraising Coordinator at 423.426.7701 or email [email protected].