A summer tradition that positively changes lives returns on Saturday, August 12. It's The Crumley House Polynesian Beach Party and it serves as the brain injury rehabilitation center's largest and most significant fundraiser of the year.
The Polynesian Island themed gala begins at 6 PM and takes place at Cherokee Creek Farm, located at 359 Taylor Bridge Road in Jonesborough, Tenn. Ballad Health serves as the beach party's Elite Sponsor.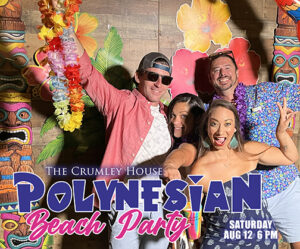 The event features an exquisite menu of island-themed foods as well as music, dancing, auctions, and games in a relaxed atmosphere. In fact, summer dresses, beach shirts and flip flops make up the preferred attire.
"The Polynesian Beach Party is the perfect event for friends to get together, fellowship, have fun and support a worthy cause as we move toward the end of the summer season," says Guynn Edwards, Crumley House Executive Director.
ETSU's Dr. Caroline Abercrombie, who serves on The Crumley House Board of Directors and chairs the Polynesian Beach Party planning committee adds, "We know this is going to be one of our best events ever and we are particularly excited about the new scenic venue in Jonesborough. Plus, we have some fun new additions that our guests will enjoy."
The Crumley House was founded in 1992 and provides residential services, an adult day program and service coordination for those who have survived a traumatic brain injury. The center's rehabilitation services include cognitive skills, technology training, physical training as well as speech and occupational therapy.
Edwards adds, "It goes without saying that traumatic brain injury is prevalent with around 2.5 million individuals experiencing one each year. While death often occurs with a brain injury, many survive and that's where we step in to aid in the rehabilitative process."
Event and Table Sponsorships are now available, as are individual tickets. For more information on the 2023 Crumley House Polynesian Beach Party and how you can be part of the fun call 423.257.3644.