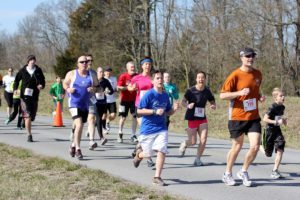 After canceling the 2020 event due to the COVID-19 pandemic, The Crumley House Brain Injury Rehabilitation Center is set to bring back its highly-popular Joggin' for the Noggin! 5K Run/Walk on Saturday, April 17, 2021.
Touted as one of the most scenic 5K events in the region, the run/walk takes place at The Crumley House (300 Urbana Road, Limestone, TN) beginning at 10 AM. With a majestic Appalachian Mountain backdrop, it's the perfect fun/fit event to usher in Spring.
CLICK HERE TO SAVE $5.00 AND REGISTER ONLINE NOW!
In addition to the run/walk, the event includes an event T-shirt for competitors, as well as awards for division winners. Professional race management and electronic timing will be provided by We Run Events.
"The Joggin' for the Noggin 5K is one of our most significant fundraisers of the year," said Guynn Edwards, Crumley House Executive Director. "We lost this event last year due to the COVID-19 pandemic, so needless to say we are very excited to bring it back in 2021, as it generates much needed funds for our efforts."
Being that The Crumley House is indeed a care facility, COVID-19 protocol as defined by the CDC at the time of the event will be mandatory. Edwards adds, "Due to the COVID-19 virus and in the interest of the health and well-being of our residents, members and staff; there will be some changes in the event as compared to past years.
"Unfortunately, we will be unable to host our grand pancake breakfast. However, we will provide event t-shirts and awards, with a post-race breakfast provided in a pre-packaged format."
The Crumley House is a 501(c)(3) non-profit organization that provides services to those who have acquired and survived a brain injury.
"Be it our residential program, our adult day program, service coordination or simply day-to-day operation, every dollar counts toward us being able to enhance the lives of those who encounter and are coping with a brain injury. Joggin' for the Noggin! Is just one way for individuals to fellowship and have fun, all while supporting a worthy cause," added Edwards.
REGISTER NOW ONLINE. Early registration is only $25 per competitor. On and after April 10, registration moves to $30. Day-of registration also will be accepted on-site at The Crumley House beginning at 8:30 AM, however, early online registration is strongly recommended.
For more information on Joggin' for the Noggin! 5K Run/Walk, please call 423.257.3644 or email Ben Trout, fundraising coordinator.