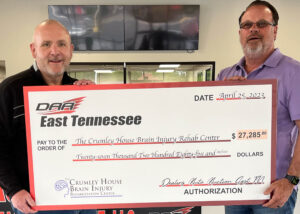 The Second Annual Dealers Auto Auction of East Tennessee recently took place in Johnson City. Among the nearly 200 vehicles auctioned was an ivory 1964½ Ford Mustang with 100% of the proceeds from its sale going to The Crumley House Brain Injury Rehabilitation Center.
The Mustang, along with two pieces of neon automotive art and a classic car cleaning kit garnered a total of $27,285 for The Crumley House. The event again was a success and a win-win for all involved. "We are extremely pleased with the number of units we were able to offer this year, the large crowd that turned out and of course the opportunity to support our community and The Crumley House," said DAA General Manager, Gary Montgomery.
Robbie Brewster, of North Tazewell, Virginia and owner of TRI-Power Motorsports placed the winning bid on the Mustang. "It's an incredible car, it's in excellent shape and definitely desired by collectors from near and far," said Brewster. "What makes it even more special is to know that the money I've paid for the car is going to such a worthy cause."
The 2023 event marked the second consecutive year that Dealers Auto Auction East Tennessee has partnered with The Crumley House. "From buyers to sellers and dealers, the people in the auction community are some of the most generous individuals you will ever meet," said Dealers Auto Auction Group Owner David Andrews. "It's outstanding to know that in two years this event has generated nearly $60,000 for The Crumley House.
Crumley House Executive Director Guynn Edwards stated, "I can't put into words how humbled and appreciative we are to be selected to receive the proceeds from the car and DAA. Their generosity and willingness to give is overwhelming."