While the countdown to usher in 2021 continues on everyone's calendar, The Crumley House Brain Injury Brain Rehabilitation Center has an ongoing countdown of its own.
On December 1, The Crumley House launched its 'Season of Giving' campaign dedicated to raise funds that would otherwise have been generated by annual fundraisers such as the "Joggin' for the Noggin! 5k Run/Walk and the highly popular Polynesian Beach Party Gala.
The 'Season of Giving' is set to end on New Year's Day.
"It's been an interesting year to say the least, and we pray for all that this virus has impacted," says Guynn Edwards, Crumley House Executive Director. "As opposed to hosting major events, we've had to get creative and come up other means to capture our much-needed funding."
Just like many non-profits throughout the region, The Crumley House relies heavily on support from individual and corporate donors. "We understand we are not alone in efforts like this during the COVID-19 impacted year. We have empathy and we wish all of our regional non-profits the best during these challenging times," Edwards adds.
With a 'Season of Giving' goal set at $10,000, The Crumley House finds itself just a bit shy of that total with three days remaining to donate to the campaign.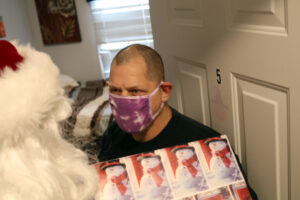 Ben Trout, Crumley House Marketing and Fundraising Coordinator, adds, "From day-to-day support for the care of our full-time residents as well as our day program, every dollar counts. On top of our typical operations, we have specific needs for projects such as enhancing our physical training facility and computer learning lab."
Donating is simple. Just visit crumleyhouse.com and click on the 'Donate Now' button, where contributors can help via Credit Card, PayPal, Apple Pay and more. Also, donors may simply mail a check to The Crumley House, ATTN Season of Giving, 300 Urbana Road, Limestone, TN 37681.
"Like everyone, we're praying, and we have faith that 2021 will bring a much better year and we'll be able to get back to some type of normal. We've had moderate success in the smaller individual fundraisers we've held since March, but our funds will still fall short for 2020," Trout says.
Fueled by the organization's website (crumleyhouse.com), social media platforms (Facebook, LinkedIn, Instagram), community outreach and local media, The Crumley House invites individuals and regional businesses to reach out during the final three-day push.