Just a little more than a year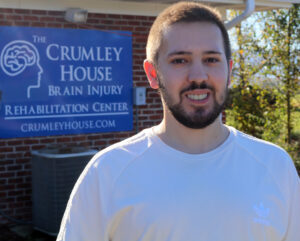 ago, twenty-five-year-old Rhyan Bible walked through The Crumley House doors not knowing quite what to expect. He admits to being a little nervous at first but has since found a home away from home.
Rhyan is a Day Program member from Greeneville, TN. Like many, his brain injury was the result of a car accident. He values his time spent at The Crumley House and looks forward to each day he attends. "I'm very thankful for this place and it's changed my life for the better, both physically and mentally," Rhyan says.
"It's a pretty long list, but for sure being a part of The Crumley House has improved my short-term memory and I process things much better now. This place also gives me an opportunity to interact with others and my social skills have certainly improved," adds Rhyan.
Rhyan is an avid sports fan, pulling for the Tennessee Vols. He also enjoys playing video games and spending time with his dogs, Marley and Cali.
In summing up what The Crumley House means to him Rhyan says, "I feel safe here, I'm not as depressed anymore and The Crumley House has definitely changed my life for the better."
To help support our survivors of traumatic brain injury and their daily activities, donate now to our "Season of Giving" campaign. Your donations are instrumental in the care of our members and the operation of our facility.