The kids may be back in school and vacations may be complete, but it's not quite time to say goodbye to summer. In less than two weeks, The Crumley House will host its 12th Annual Polynesian Beach Party.
Set for Saturday, August 27th at 6 PM, the festive gala, presented by Ballad Health and Dermatology Associates, will take place inside Bristol Motor Speedway's spacious South Building. Tickets and table sponsorships remain available.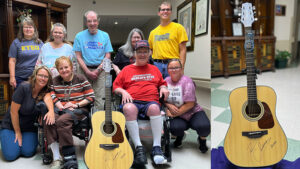 While there will be plenty of food and music to enjoy, the auctions and raffle highlight the gathering. Both a Live and Super-Silent Auction are on the evening's agenda. Items in the Live Auction include a five-day package for up to six people to Dominican Republic, as well as an autographed guitar from Kenny Chesney. Ron Ramsey & Associates will handle the auctioneer duties.
Attendees definitely will want to purchase raffle tickets to win a trip for two to Belize with accommodations at The Lodge at Big Falls. Super-Silent Auction Items include a Blanton's Bourbon Whiskey Set, as well as a $1000 gift card and gift basket from Sturgill Orthodontics.
WJHL News Channel 11 First at Four Anchor Kelly Grosfield will emcee the evening's fun, while DJ Robbie Britton provides the event's soundtrack packed with music and entertainment. Partygoers are encouraged to participate in the theme by donning those Hawaiian shirts, flowered dresses and of course… flip flops.
ETSU's Dr. Caroline Abercrombie, who serves on The Crumley House Board of Directors and chairs the Polynesian Beach Party planning committee said, "This is always one of the region's most popular and anticipated social events of the year and we can't wait to welcome all to the fun."
Traumatic brain injury (TBI) is a leading cause of death and disability among children and young adults in the United States, and each year an estimated 1.5 million Americans sustain a TBI.
"The Polynesian Beach Party is the perfect event for all to get together and bring the summer to a close with great food, music and fun while raising money in the name of traumatic brain injury rehabilitation," said Guynn Edwards, Crumley House Executive Director. "After a two-year absence due to COVID, we truly need this event to continue our efforts."
To purchase Table Sponsorships or individual tickets or call 423.257.3644.