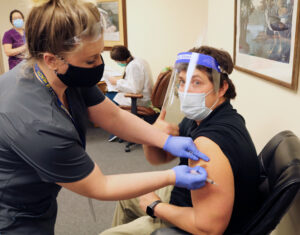 Representatives from the Tennessee Department of Health visited The Crumley House on Tuesday, Jan. 12 to administer phase one of the Moderna COVID-19 vaccine to residents, day program members and staff.
"We are truly thankful to have this opportunity for our members and our staff to receive this vaccine, which we feel is a major step in returning us to normal operations," said Guynn Edwards, Crumley House Executive Director.
The Brain Injury Rehabilitation Center has been on lockdown, or semi-lockdown status since April of last year when the virus made its way into the region.
Edwards added, "We appreciate the Tennessee Department of Health, the developers of the vaccine and all who had a hand in making this happen."
Phase two of the vaccine will be administered to members and staff the week of Feb. 9.